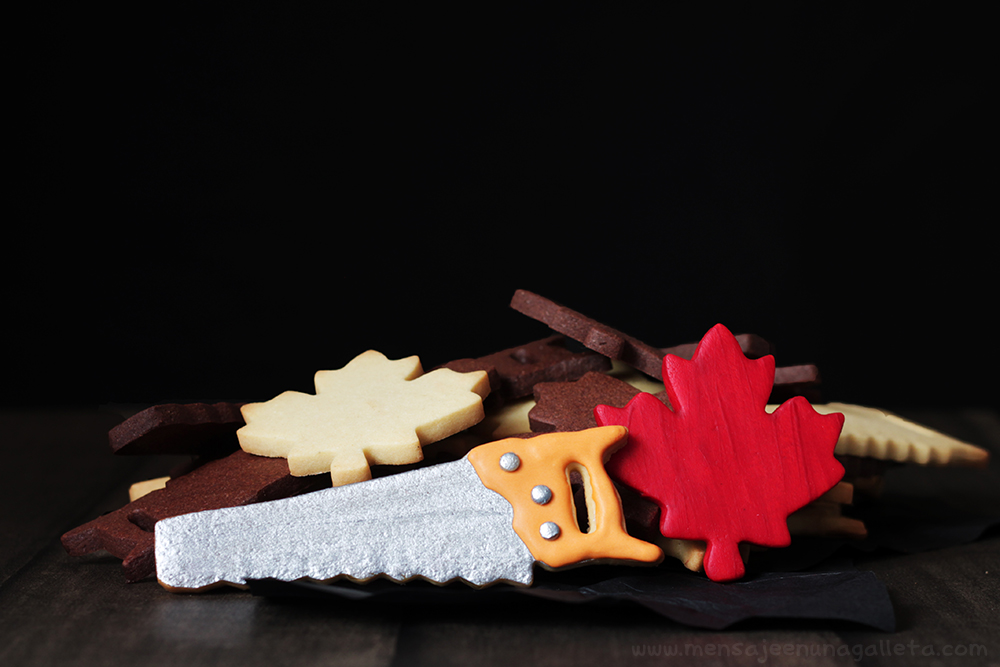 La mayoría de mis amigas se niegan a escuchar la música que amablemente les sugiero, «Miriam, otro de tus grupos raros NO». Luego van a ver a Alejandro Fernández, porque digo yo que a oírlo, no irán.
No me rindo con facilidad, por eso este verano arrastré a Estíbaliz y a Belén a un concierto de los Mutantes, utilicé tres argumentos: privado, terraza, catering. Lo creáis o no, les gustó. Me vine arriba y en cuanto se despistaron teníamos las entradas y las reservas para el Alhambra Sound. "Por favor, haznos una lista en Spotify, por lo menos que nos sepamos alguna canción". Un mes después no podían tuitear sin utilizar trozos de las letras de Marc. Ahora las tres somos #muyfanesdesidonie.
Sidonie está a punto de sacar nuevo disco, no creo que podáis adivinar cómo se llama. A Estíbaliz y a mí la espera se nos ha hecho larga, pero nos lo hemos pasado en grande con la promoción previa del disco en redes sociales, echadle un ojo a su Instagram: http://instagram.com/sidonie_. Esa taza pasando de mano en mano pedía a gritos galletas. Nos dispusimos a hacerlas con la esperanza secreta de que no llegaran a verlas, ¡qué vergüenza! El mensajero podía perderlas, un community manager goloso comérselas…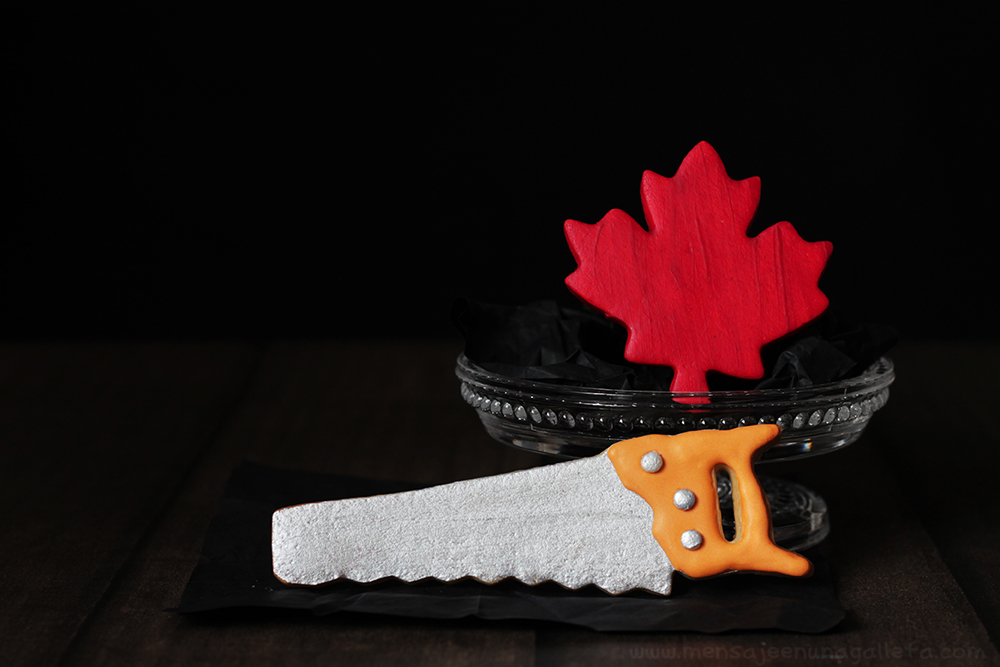 Estaréis pensando que una cosa es que esta entrada vaya sin receta y otra que no os vaya a contar cómo hicimos las galletas. ¡Vámonos!
Empiezo por Sierra, que no es una galleta, sino cuatro y para la que necesitamos dos cortadores, uno de sierra y otro de letra I para la abertura del mango. La boquilla hace también funciones de cortador, ahora lo veréis.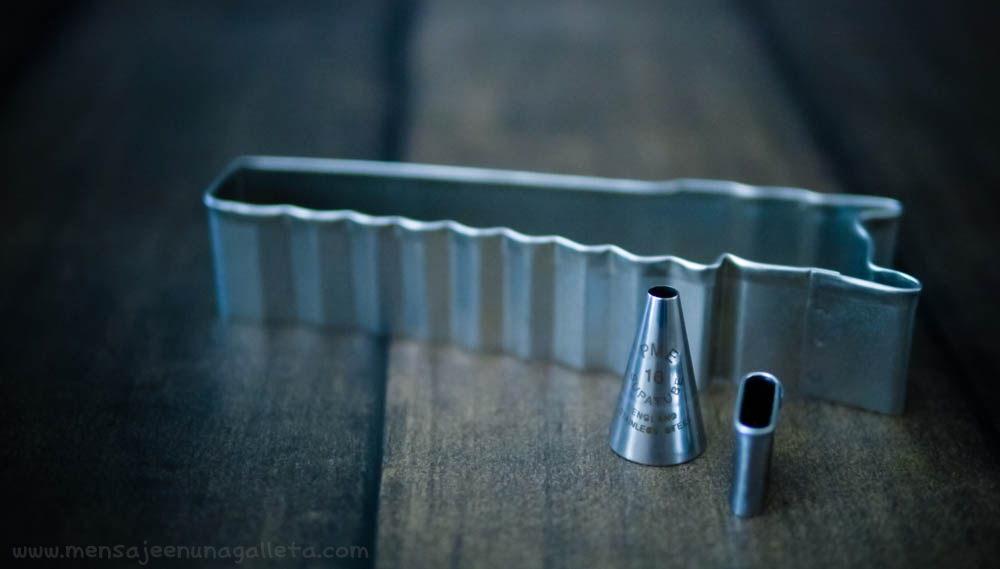 Sierra fue fácil de encontrar, apareció en una tienda de Barcelona, El Món de la Llar, que nos la hizo llegar con celeridad. En esta galleta usamos dos técnicas, galleta pintada en la hoja y galleta glaseada en el mango. Queríamos pintar la hoja de la sierra directamente sobre la galleta y no sobre glasa, para que el mango quedase elevado respecto a la hoja y conseguir mayor realismo. Queríamos además que brillase mucho y supiese bien. Tras varias catas a ciegas decidimos que las sierras que mejor sabían eran las pintadas con pintura metálica, mejor que con spray y además eran las que más brillaban.
Los tornillos son microgalletas que corté con la boquilla del 16 de pme, horneé y pinté una a una. Lo sé, es un acto de amor verdadero.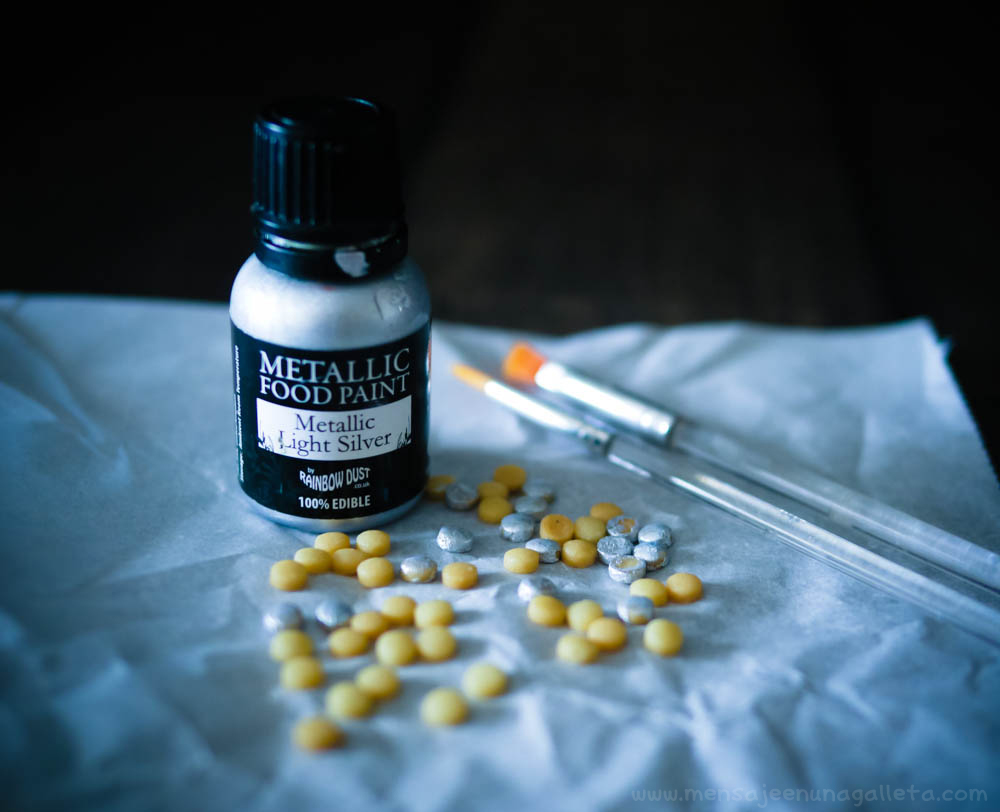 Buscamos a Canadá durante semanas, pero el candidato idóneo no aparecía. Gracias a Dios lo encontró Gloria en California, en este enlace lo podéis ver hasta en el Queen Mary: http://statigr.am/tag/galleteroyviajero. El diseño también se complicó, en las primeras versiones utilizamos masa coloreada, pero no nos decía nada. Así que probamos a pintarlo de rojo. ¡Misión imposible! Probamos Super red, Red red, Extra red, Poppy red, en cuanto mezclábamos los colorantes en gel con el colorante blanco en polvo para formar la pintura comestible, adquirían un tono rosa triste… Casi abandonamos, pero buscando el Christmas red para una última prueba apareció un colorante rojo en polvo que nos había enviado Esther de Mummy crafts y que habíamos olvidado: ¡Gracias Esther! Y mezclándolo con un poco de vodka y un poco de Poppy red: ¡La pintura roja perfecta!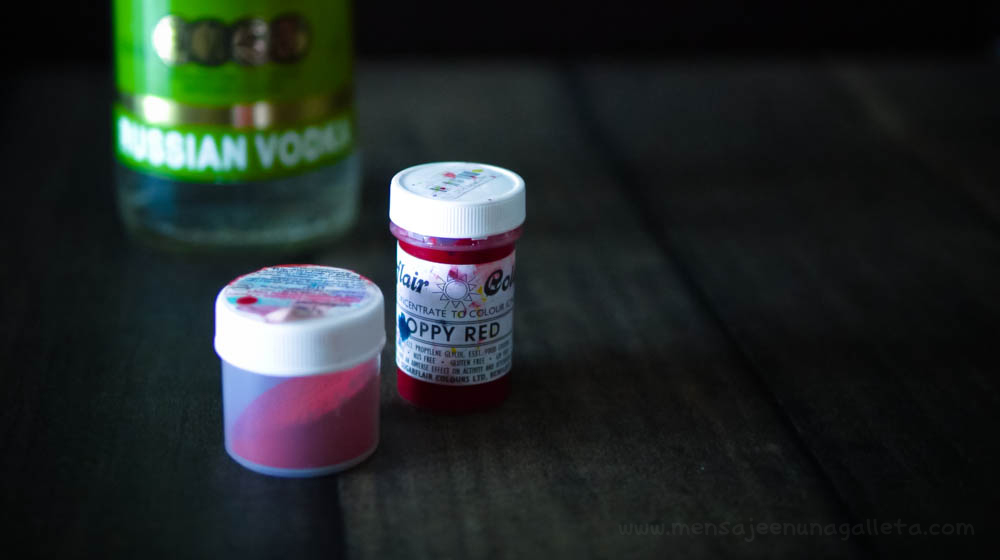 Y ahora que ya os lo he contado volvamos a Sidonie, escuchadlos, escuchadlo todo pero empezad por Costa Azul, es mi disco.
Un beso gordo, Miriam G.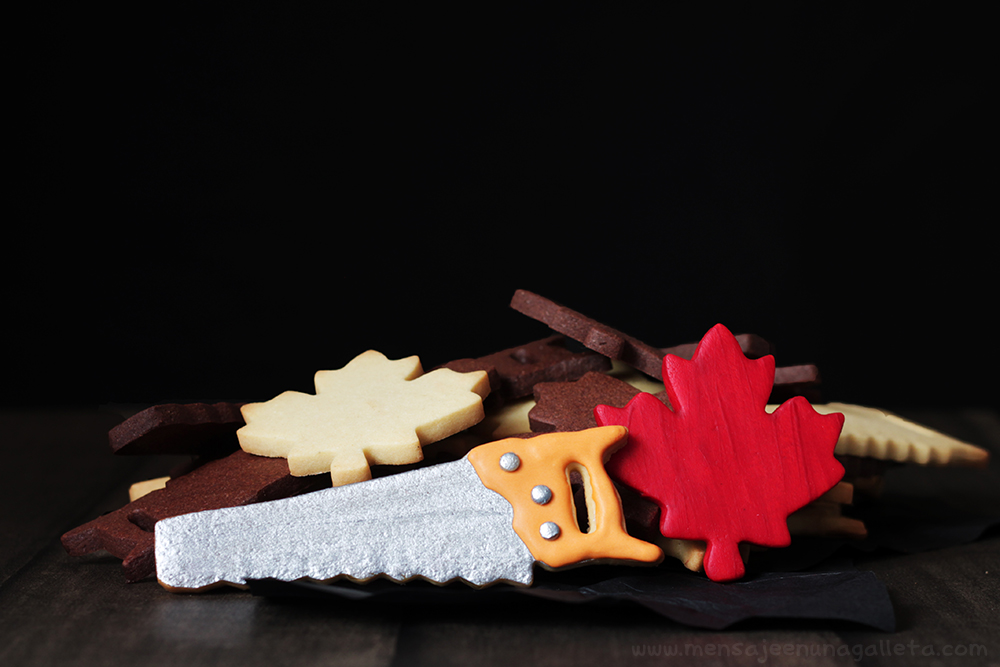 Most of my friends refuse to listen to the music that I nicely suggest to them; "Miriam, another one of those weird groups of yours please NO". Then, they go to see Alejandro Fernández, and I when I say 'see' it's because I seriously doubt they go just to listen to him.
I am not a quitter, and that is why this summer I dragged Estíbaliz and Belén to a concert of Los Niños Mutantes using three arguments: private, terrace, catering. Believe it or not, they liked it. Then, I felt uplifted and when they least expected it we already had the tickets and necessary bookings for the Alhambra Sound Festival. 'A list on Spotify, please, at least we need to know a couple of songs'. A month later, they were unable to tweet without using Marc's lyrics. Now, the three of us are #bigfans.
Sidonie is about to release a new record; I don't think you can guess how it's called. It's been a long wait for Estíbaliz and me, but we have had a great time with the record's previous promotion in the social media, take a look at their Instagram: http://instagram.com/sidonie_ . That mug passing from hand to hand was begging for cookies. We put our hands to it with the secret hope the group will never get to see them: how embarrassing! The courier could lose them; a community manager with a sweet tooth could eat them…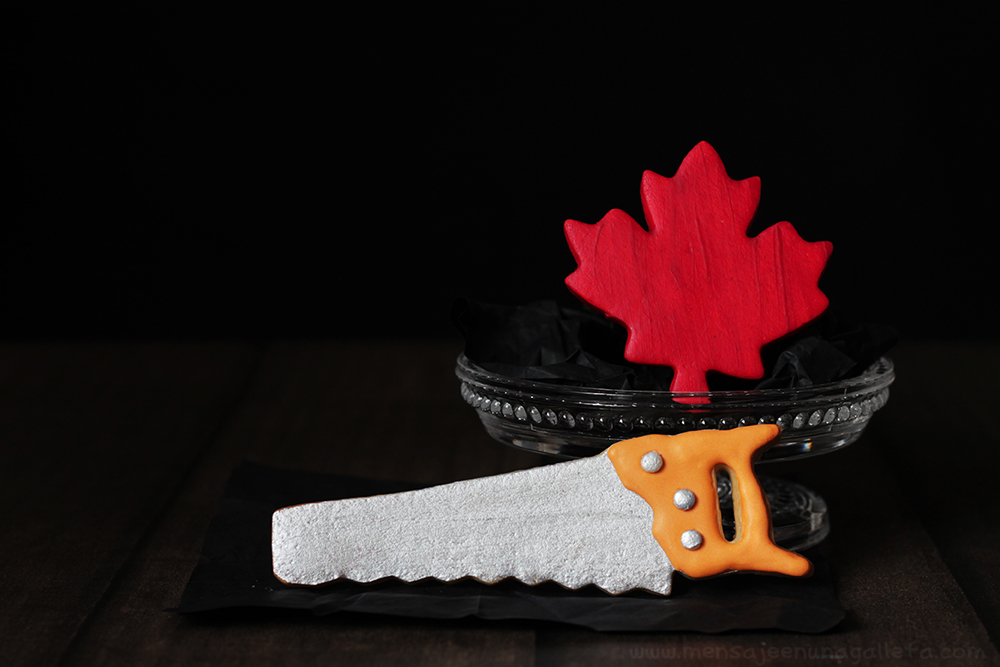 You will be thinking that one thing is that this blog post doesn't have a recipe and a different one that we are not going to tell you how we made these cookies. Let's go!
I will begin with Sierra, which is not a cookie, but four, and in order to make it we needed two cutters, a saw-shaped one and an 'I' letter for the closed handle. The tip is also a cutter, you will see it now.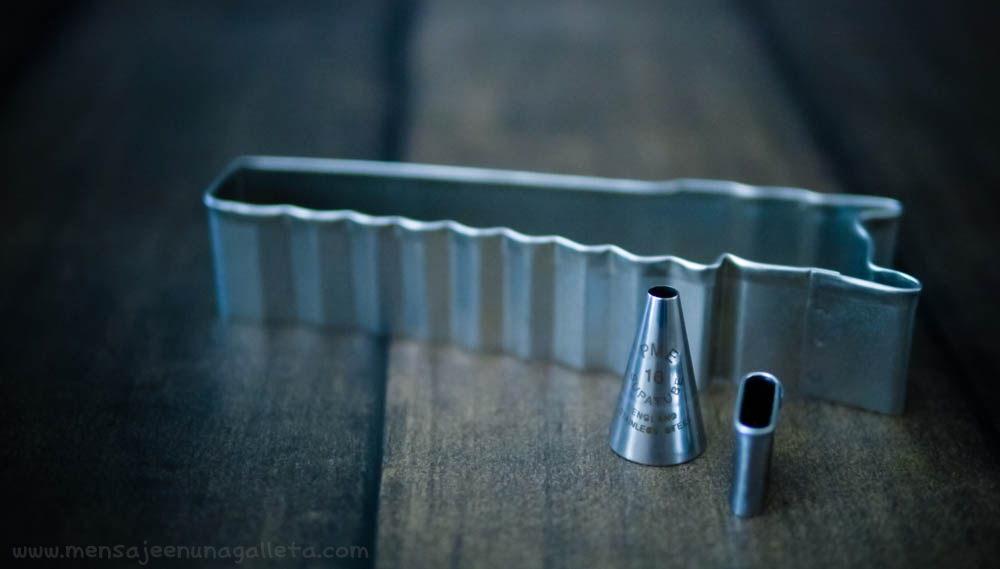 Sierra was easy to find, it appeared on a shop in Barcelona, El Món de la Llar, which sent it to us really fast. We used two different techniques with this cookie, the saw blade was painted and the handle was iced. We wanted to have the saw blade painted and not iced so the cookie would have two levels and more realism. We also wanted it to shine a lot and taste nice. After several blind tastings we decided that the blades that tasted better were the ones painted with metallic colourings, not spray, and they were also the shinier.
The screws are micro cookies cut with a PME #16 tip that I baked and painted one by one. I know, it was a truly act of love.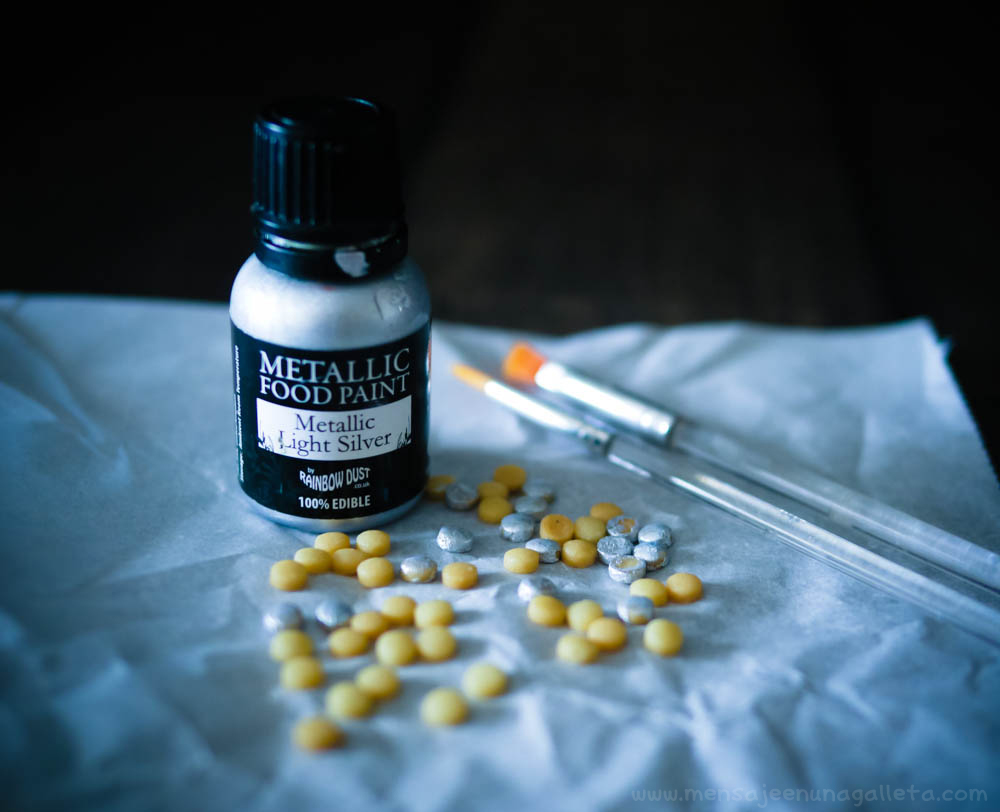 We searched for Canada for weeks, but we could not find the right candidate. Thank God Gloria found it in California, in this link you can see it even in the Queen Mary:  http://statigr.am/tag/galleteroyviajero. The design got complicated too, for our first tests we used colored dough, but it said nothing to us. We tried to paint it in red. Mission impossible! We tried Super Red, Red Red, Extra Red, Poppy Red, in the moment we mixed the gel food colourings with white powdered food coloring to create an edible paint, they turned into sad pink shades…We almost gave up, but looking for Christmas Red for a final try, we found a red powdered food coloring that Esther from Mummy Crafts sent us and which we had totally forgotten about: thank you Esther! And mixing it with a bit of vodka and a bit of Poppy Red: the perfect red paint!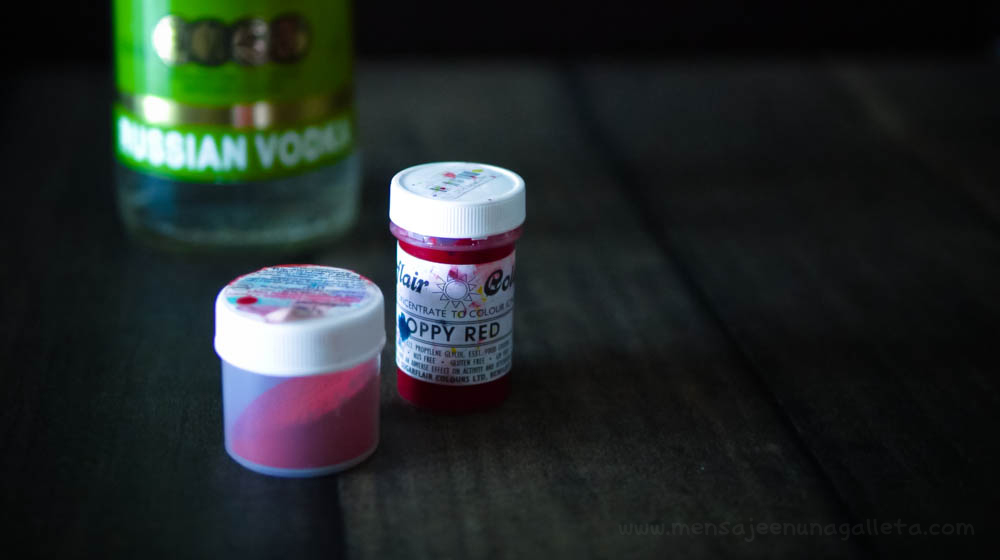 And now that I've told you about the cookies, let's go back to Sidonie, listen to all their records, but please start with Costa Azul, it's my favourite record.
A big fat kiss,Miriam G.