jueves, agosto 29th, 2013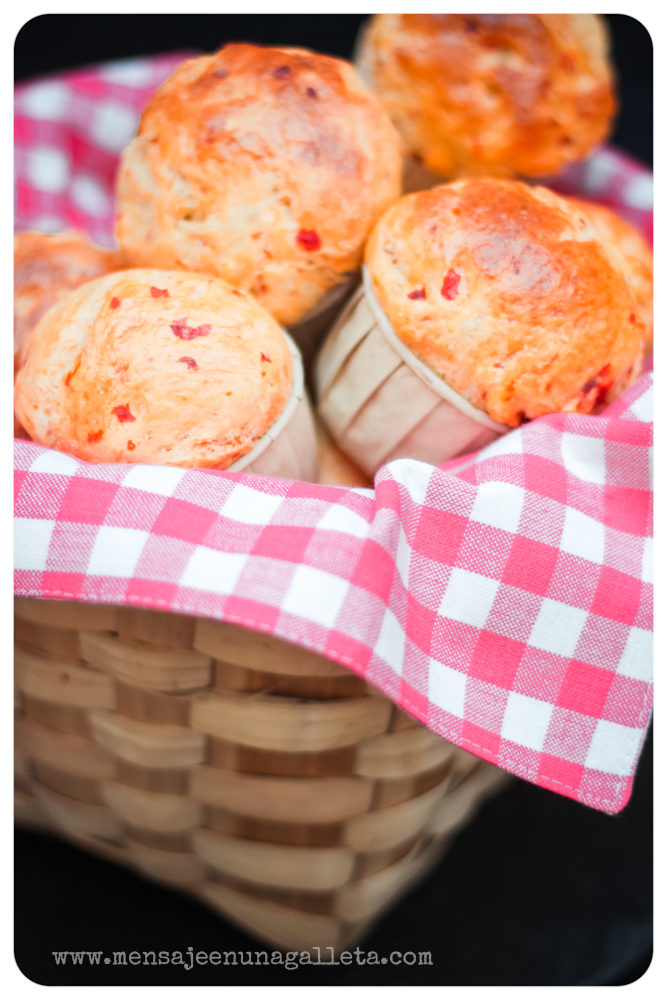 Adoro cuando Miriam se va a Ponferrada de vacaciones, mejor dicho, cuando vuelve, porque se acuerda de mí y me trae siempre pimientos cultivados en un huerto ecológico, asados sobre una chapa que calienta un fuego de leña y pelados a mano ¿alguien da más? Sí, ella misma. Vino también con una cesta hecha a mano debajo del brazo. No os creáis que soy tan materialista, también la echo de menos cuando se va.
Dejémonos de sentimentalismos y volvamos a lo que interesa. Una de las latas las aliñé con el clásico aceite, vinagre y sal y la otra se la incorporé a una receta de pan, que resultó ser una combinación espectacular.
I love it when Miriam goes to Ponferrada on holidays, or better, when she comes back, because she thinks about me and always brings me some organically grown peppers, roasted in a wood-fired oven and hand peeled. What more could you ask for? Well, in fact she also came back with a handmade basket. Do not think I am so materialistic, I also miss her when she's gone.
Let's forget about sentimentalism and let's get back to what's important. I seasoned the content one of the pepper tins with the typical oil, vinegar and salt, and I used the other one for a bread recipe which resulted in a spectacular combination.
Vamos con la receta
Para la "masa madre":
20 gr de levadura prensada fresca
70 ml de agua
120 gr de harina de fuerza
El resto de los ingredientes
100 gr de pimientos ecológicos, asados en horno de leña y pelados a mano de Ponferrada. ¿No tenéis? Bueno, pues podéis hacer el apaño con unos DIY de casa
200 ml de leche entera (si incluís en esos 200 ml un chorrito del jugo de los pimientos, quedará todavía mejor)
20 gr de aceite de oliva virgen extra. Otro tipo de aceite no, por favor.
5 gr de azúcar
10 gr de sal
380 gr de harina de fuerza, nuevamente
Opcionalmente, podemos incorporar un poco de cebolla rehogada al pan cuando incorporemos los pimientos
Let's go with the recipe:
For the 'sourdough':
20 gr fresh compressed yeast
70 ml of water
120 gr bread (strong) flour
Rest of ingredients:
100 gr of organic peppers from Ponferrada, roasted in a wood-fired oven and hand peeled. Don't you have them? Well, you can fix it using some DIY'ed at home.
200 ml whole milk (and if you include in those 200ml a string of the peppers juice it will be even better).
20 gr of extra virgin olive oil. Not any other oil, please.
5 gr of sugar
10 gr of salt
380 gr of bread (strong) flour, again
Optionally, we can add some sautéed onions to the bread when we incorporate the peppers.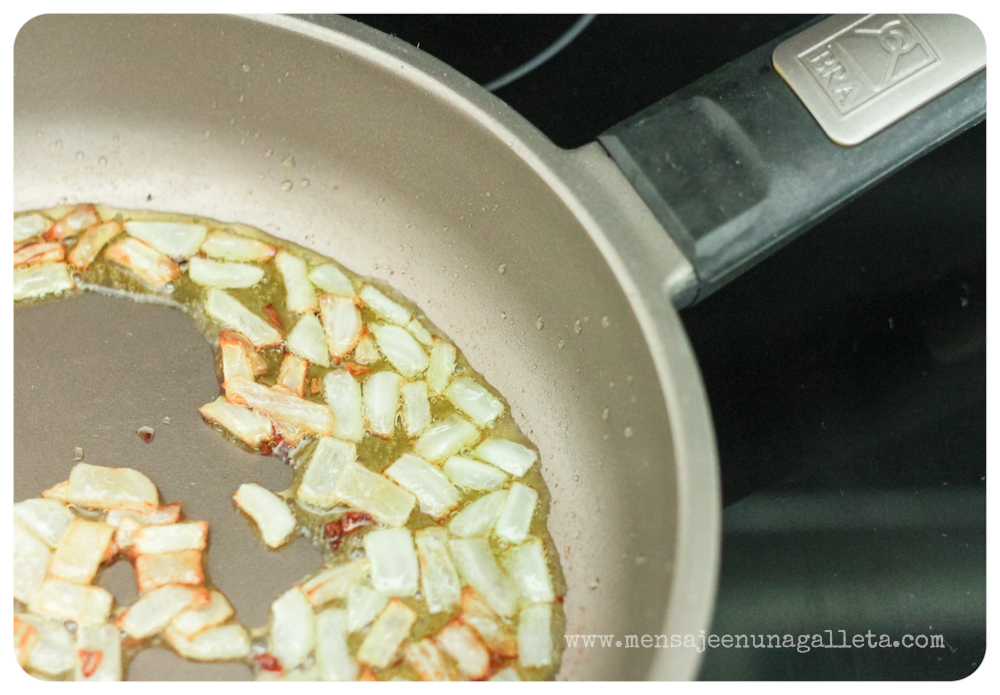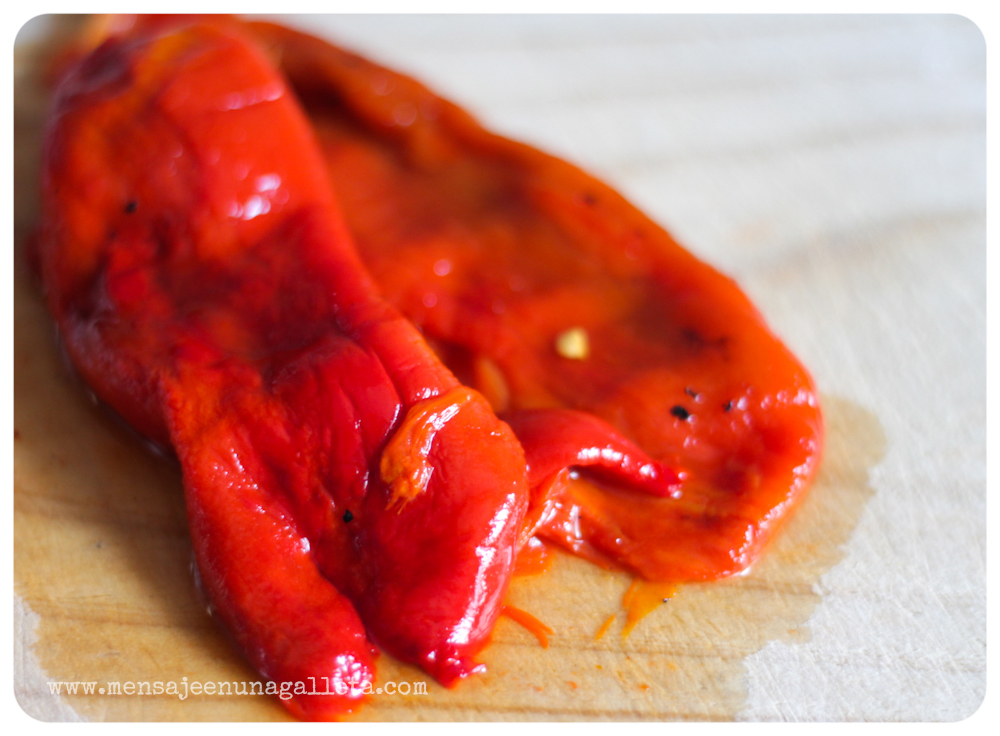 Empezamos con la "masa madre".
Trituramos en nuestro robot de cocina la levadura con el agua tibia y luego añadimos la harina. Mezclamos todo y amasamos durante un par de minutos. Dejamos reposar en un recipiente tapado con un paño húmedo durante unos 15 minutos aproximadamente. Veréis que pasado ese tiempo ha doblado su volumen.
We start with the 'sourdough'.
Using our kitchen robot, grind the yeast with the lukewarm water and then we add the flour. Mix everything and knead for a couple of minutes. Let it stand in a bowl covered with a wet cloth for 15 minutes approximately. After that it will double its volume.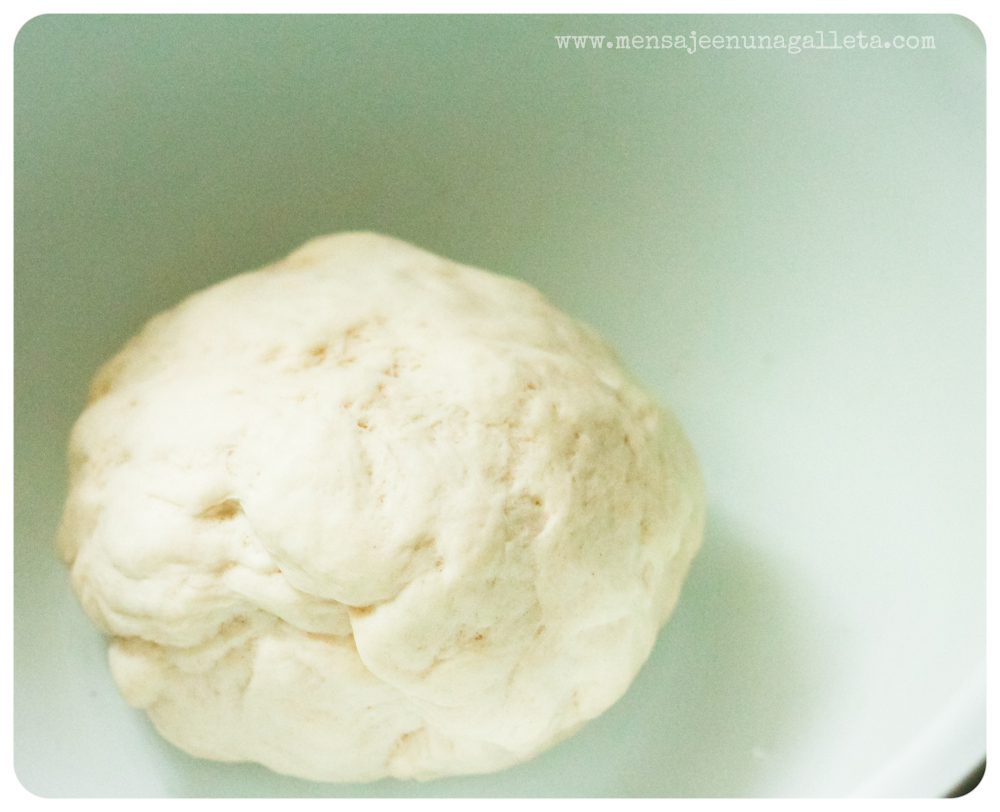 Seguimos con el resto de los ingredientes.
Mezclamos el resto de los líquidos, la sal y el azúcar. Incorporamos el resto de la harina y amasamos unos minutos.
Cortamos los pimientos en cuadraditos y los incorporamos a la mezcla anterior, a la que también añadiremos la masa madre y amasaremos hasta que esté todo bien incorporado. Dejamos reposar otra vez todo en un recipiente, hasta que suba de nuevo.
We keep working with the rest of ingredients.
Mix the rest of the liquids, salt and sugar. Incorporate the rest of the flour and knead for some minutes.
Cut the peppers in small dices and add them to the previous mixture, along with the sourdough, and knead until everything is fully and properly incorporated. Let everything sit until it rises again.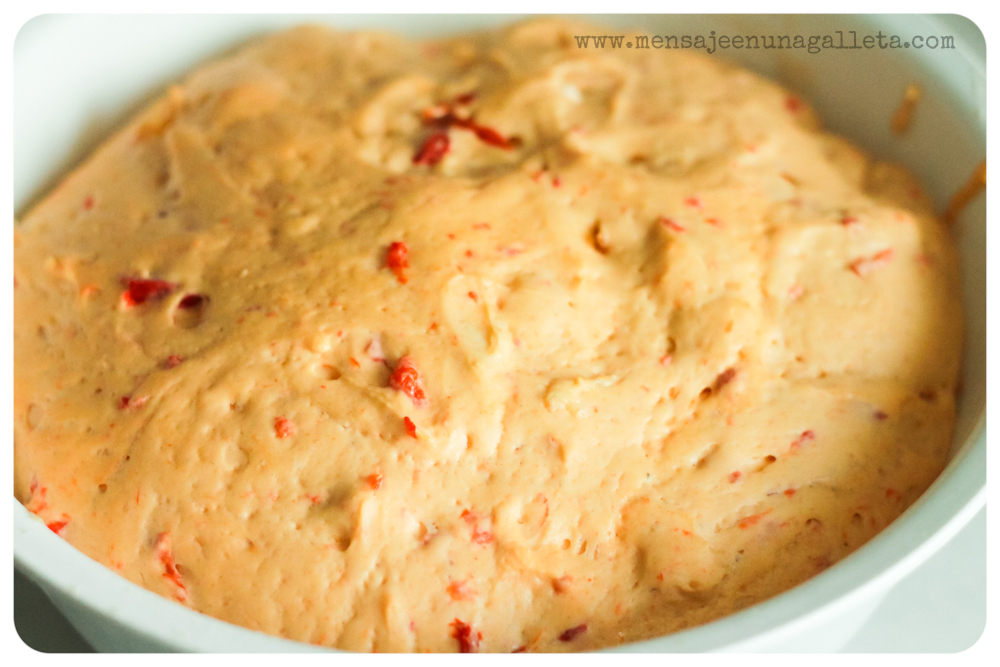 En ese momento repartimos la masa en los recipientes donde queramos hornearla (si es que queremos que vaya dentro de alguno), pintamos con huevo para que queden más bonitos cuando se cuezan y dejamos que suban otra vez (no tardará mucho)
In that moment we distribute the dough in the moulds or liners we want to bake it in (in case we want to use them), brush each piece of dough with a beaten egg so they look nicer when baked and let them rise again (this time it will not take long).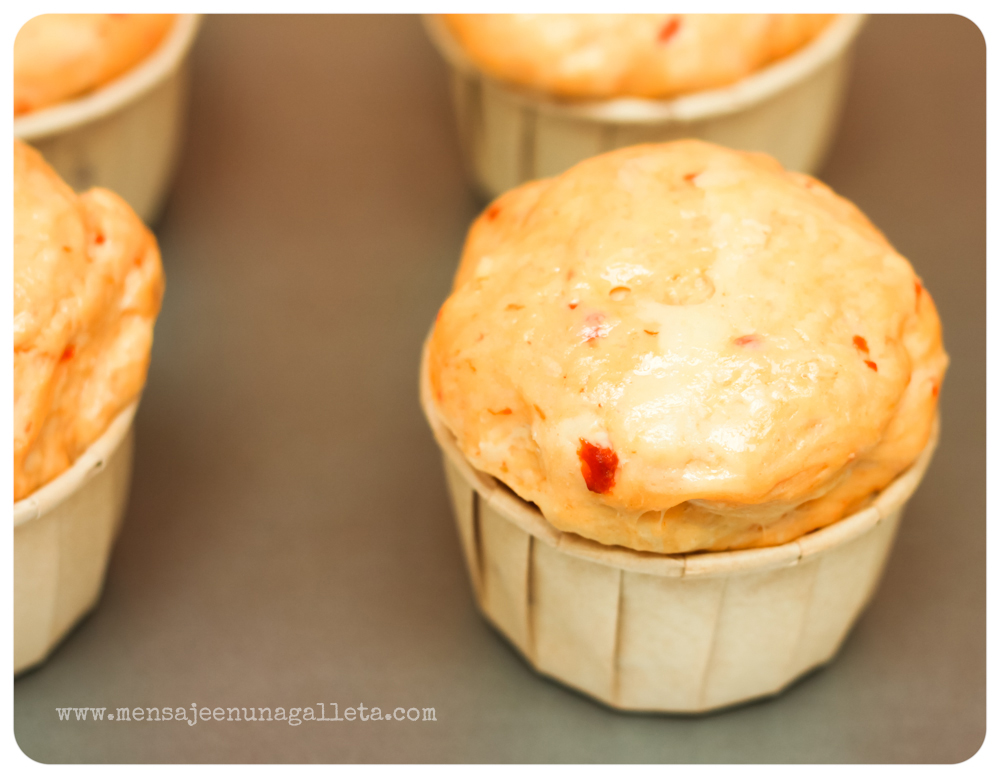 Mientras, precalentamos el horno a 200 grados, con calor arriba y abajo y el ventilador puesto. Es conveniente añadir humedad durante la cocción para que el pan quede más tierno. Lo que hago es poner la rejilla a mitad de altura donde coloco una bandeja más pequeña y abajo pongo la bandeja de asar del horno llena con agua.
Atención: Mucha precaución cada vez que vayáis a abrir la puerta del horno, el vapor de agua quema mucho (ojalá alguien me lo hubiera dicho a mí)
Tras tomar todas las precauciones del mundo, metemos nuestros queridos proyectos de pan en el horno. Si van en cápsulas de cupcakes, estarán dentro 10 minutos.
In the meantime, preheat the oven to 200ºC, heat above and below and fan on. It is convenient to add some humidity during baking so the bread is more tender. What I do is to place the oven rack in the middle of the oven and the tray with the bread on it, and in the bottom I place the roasting tray filled with water.
Attention: be very careful every time you open the oven, the water steam burns a lot (I wish somebody had warned me).
After taking all the precautions in the world, put our dear bread projects in the oven. If you bake them in cupcake liners they will be ready in 10 minutes.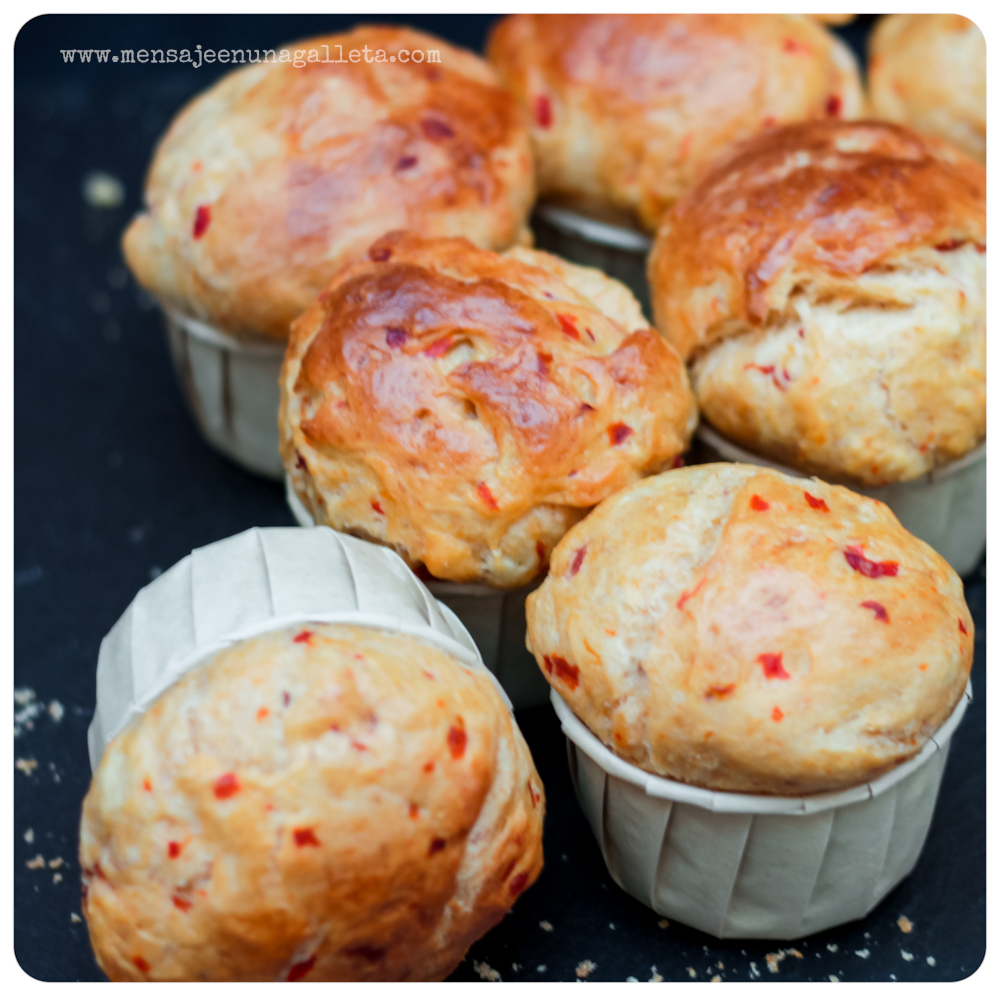 Si van en un molde grande, unos 25 o 30.
If you use a bigger mould or pan, in 25-30 minutes.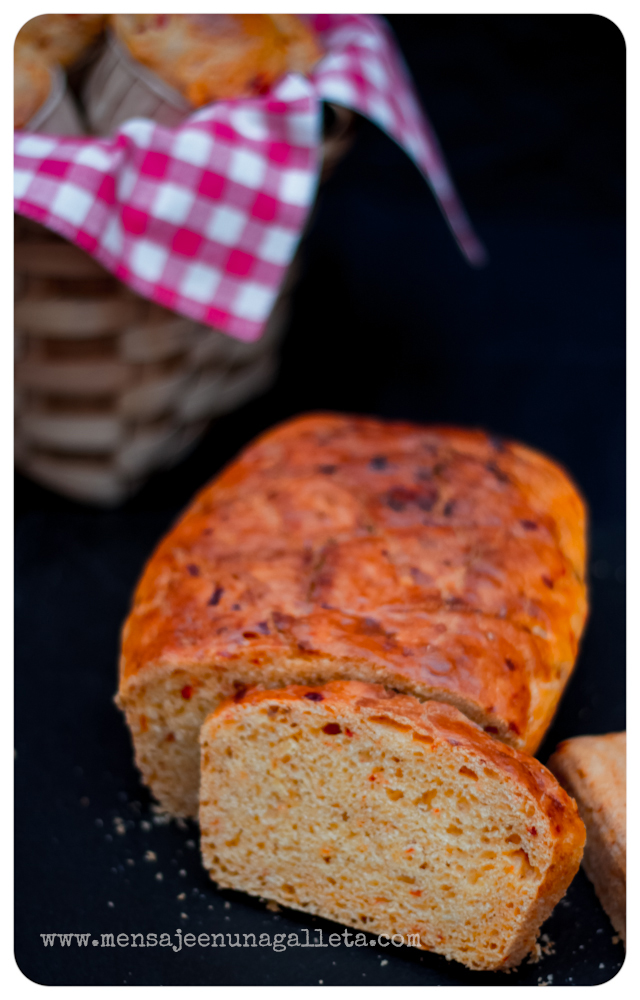 Preparaos para el olor tan maravilloso que perfumará vuestras casas.
Get ready for the wonderful smell at home.
Un beso grande, Estíbaliz.
A big kiss, Estíbaliz.
Un millón de gracias como siempre a Gloria.