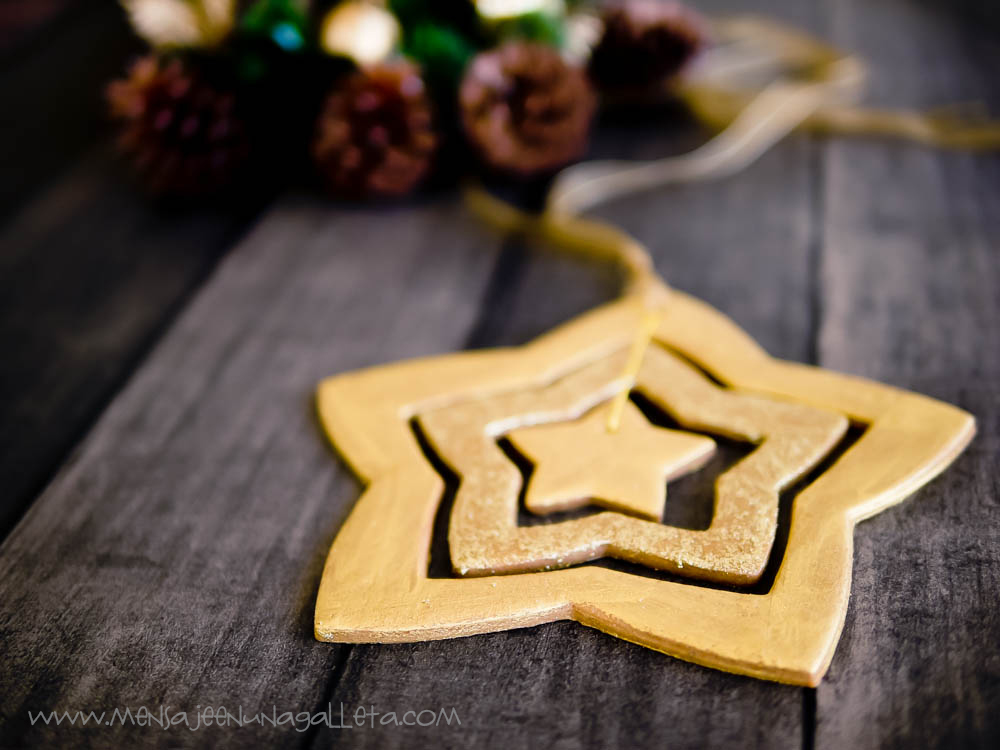 Hoy no hay receta: ¡Horror! Pero para compensaros os traigo el truco definitivo de una superficie tan lisa que casi brilla para vuestras galletas. Y además una nueva utilidad para esos cortadores de estrellas que comprasteis pensando hacer todos los años un árbol y que todavía siguen en su plástico. (Efectivamente Marta Blanco Ballesta, tú eres la excepción que confirma esa regla.)
Os puedo asegurar que la cara de sorpresa del destinatario al recibir este móvil de galleta está asegurada: "¿Pero esto son galletas". Respuesta: "¡Sí! De jengibre"
Vamos a lo que nos ocupa, en la siguiente foto aparecen los cortadores que he utilizado. El 10, 7, 6,3 y 2. Siendo el número 10 la estrella más grande y el 1 la más pequeña.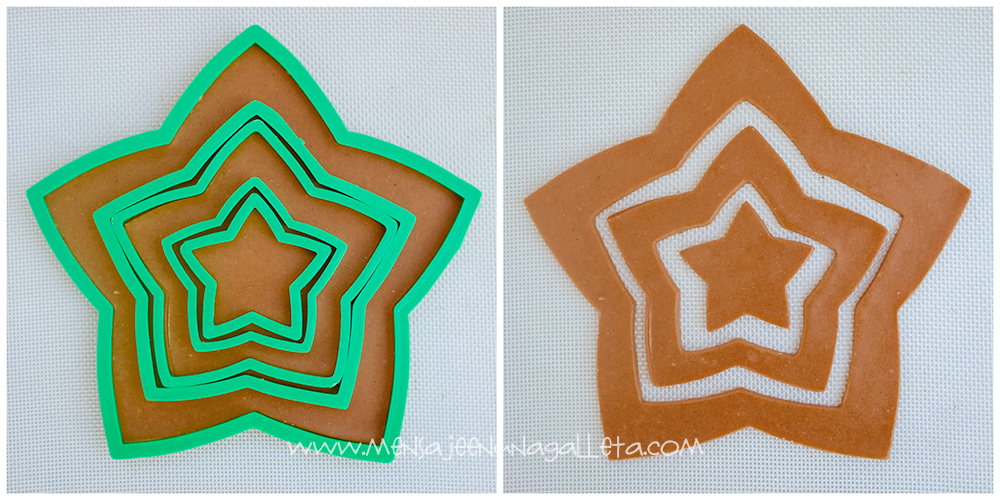 Os aconsejo cortar en frio, volver a enfriar sin quitar los cortadores de su posición, y con la masa muy fría dejar las galletas como aparecen en la segunda imagen. Yo las hice de 3mm de grosor y necesitaron 12 minutos de horno.
Prestad atención a las siguientes dos fotos, son las mismas galletas, en la primera se ven las galletas recién sacadas del horno, y en la segunda son esas mismas galletas a los 10 minutos: ¡Magia!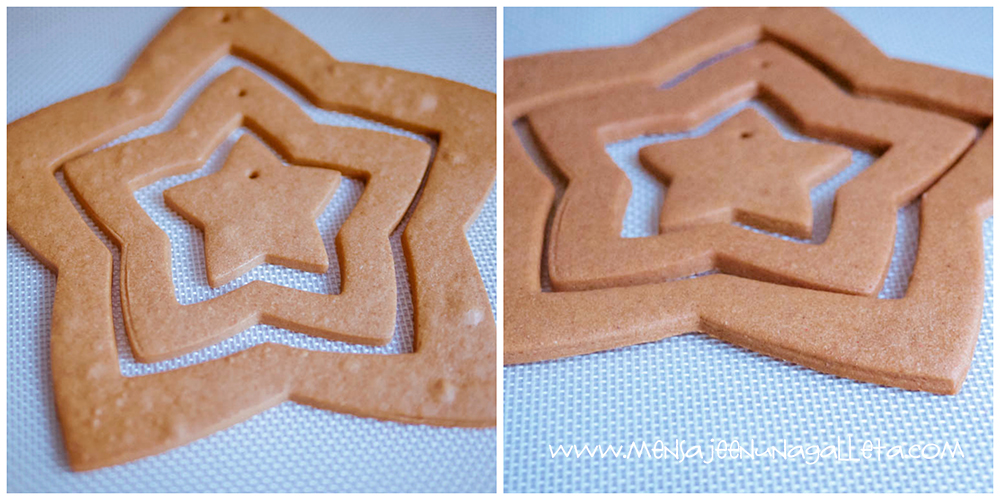 Si no me creéis fijaros en la marca de la izquierda de la galleta central, o la marca de la derecha de la galleta grande. ¡Son las mismas! ¿Cómo es posible? Pues sintiendo decepcionaros, en esta ocasión la respuesta no es chocolate, es bandeja caliente: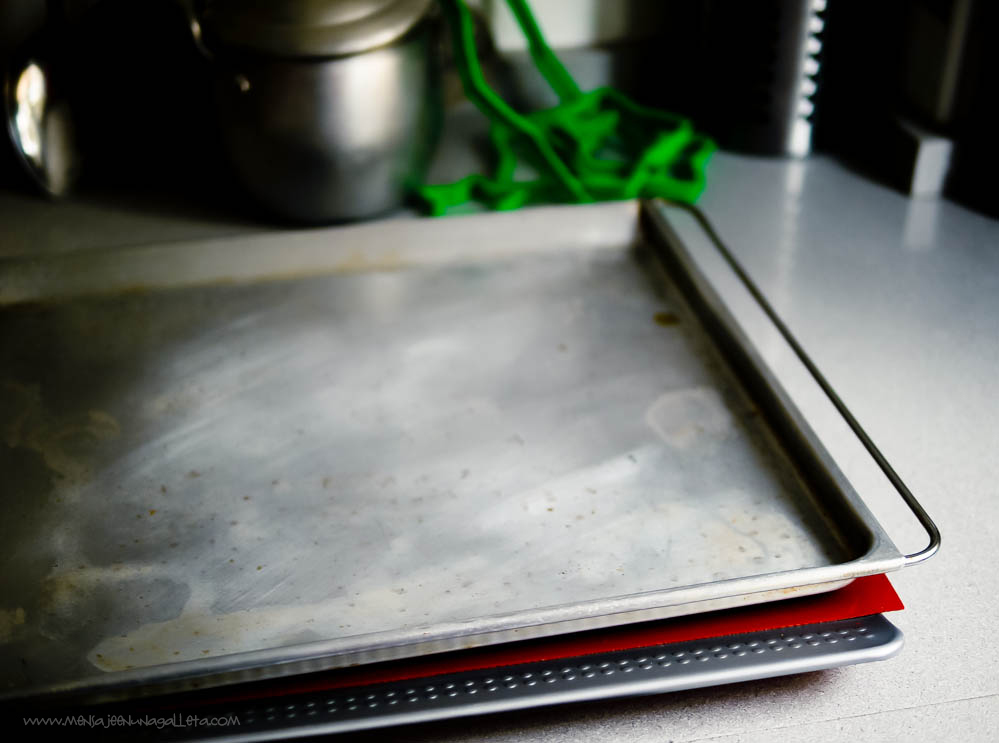 Mientras horneamos las galletas, aprovechamos y calentamos una bandeja extra. Sacamos las galletas del horno y rápidamente colocamos la bandeja sobre ellas. La levantamos a los diez minutos y… ¡Galletas extralisas!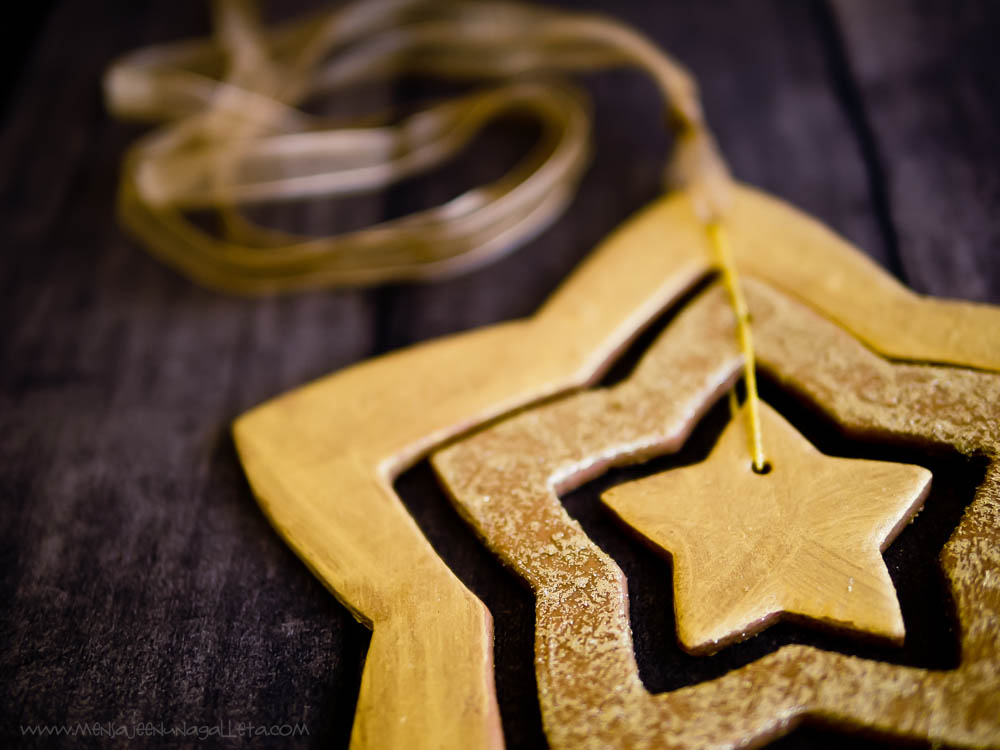 La decoración es muy sencilla, pintamos directamente la galleta más grande y la más pequeña con la mezcla dorada de las coronas. Y la del centro con una mezcla del mismo spray y purpurina, dando toquecitos suaves con el pincel.
Los agujeritos están hechos con la parte de atrás de una brocheta.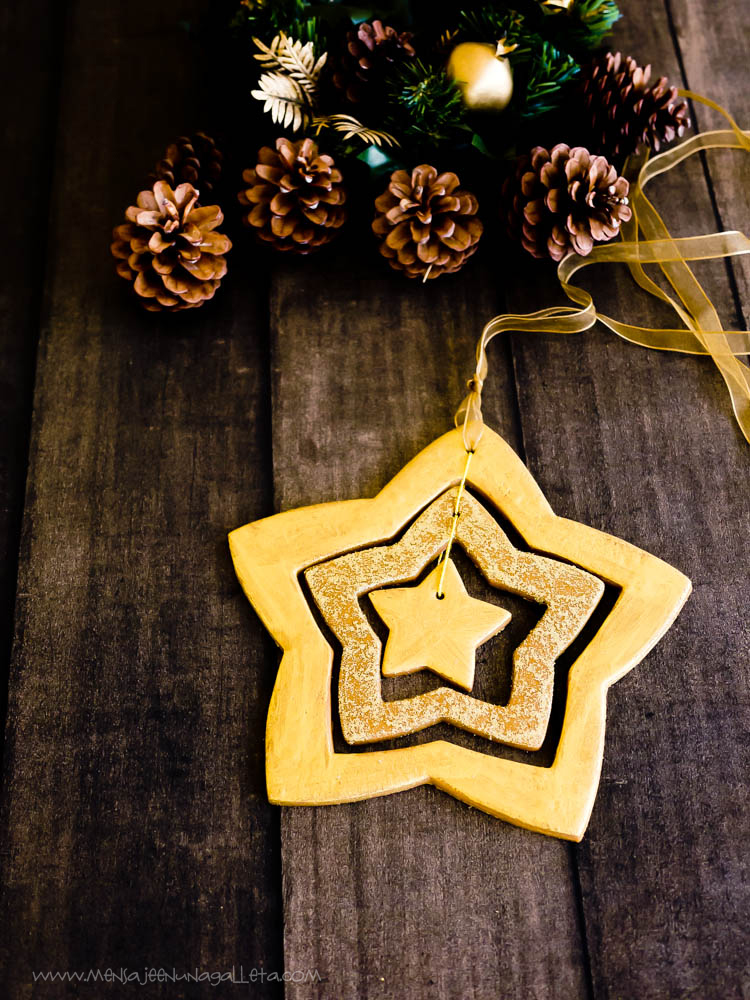 Sabéis que os queremos, y nos gusta recordaroslo, incluso en Navidad: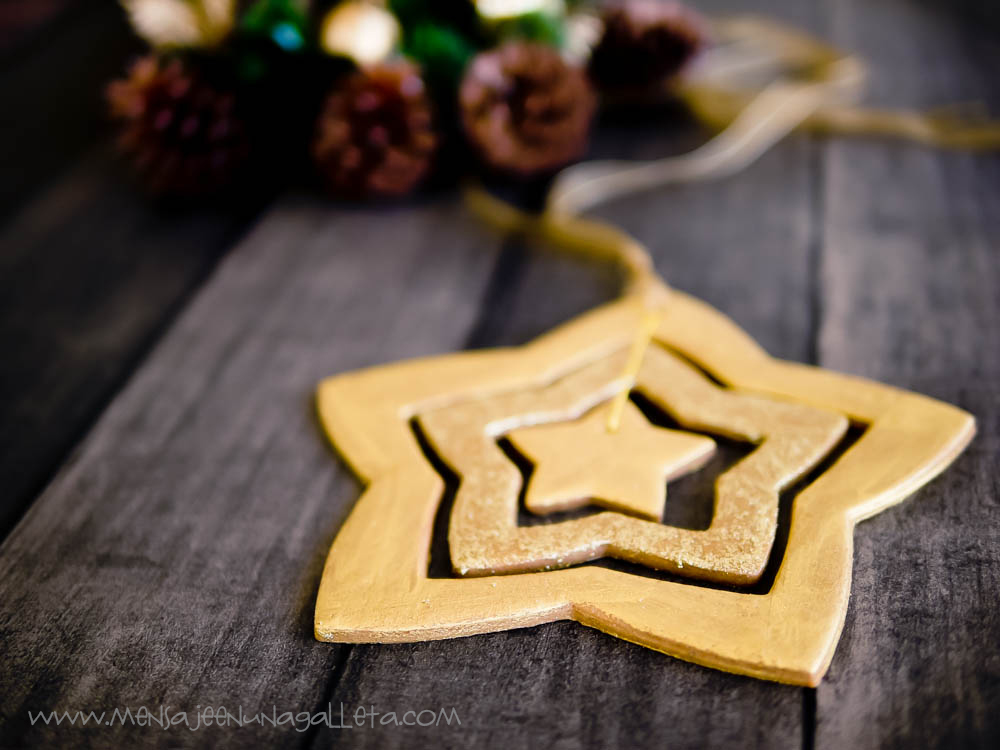 There's no recipe today, what a tragedy! But to compensate I will show you the definitive trick in order to obtain a cookie surface so smooth that it almost shines. And I have a new use for those star cutters you bought one day thinking about making a Christmas tree every year since then, and which are still wrapped in plastic (Marta Blanco Ballesta, yes, you are the exception to the rule).
I can assure you that the shocked face of the recipient of this cookie mobile is guaranteed: 'are these cookies, seriously?'. Answer: 'Yes! Ginger cookies'.
Let's go for what's really important. In the next pictures you can see the cutters I've used. 10, 7, 6.3 and 2. Being 10 the biggest star and 1 the smallest.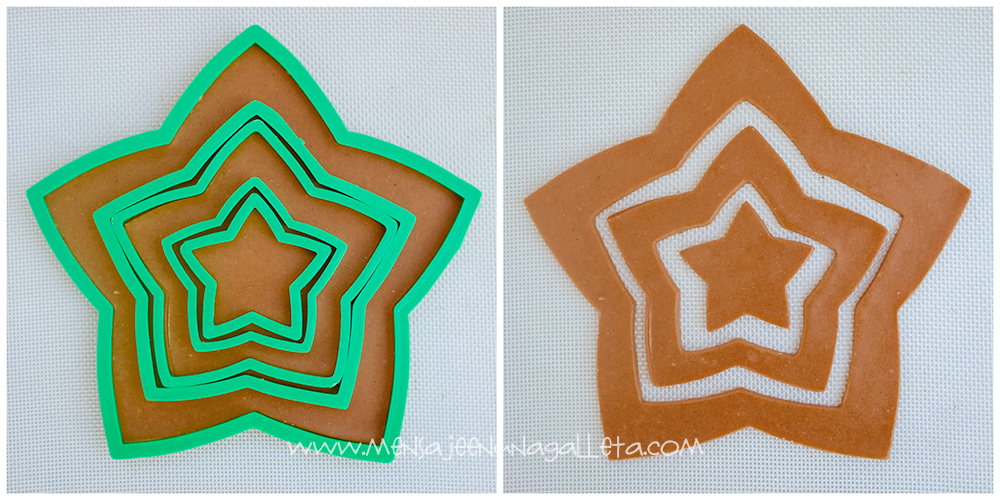 I recommend you to cut the cookies with the dough very cold, put them back in the fridge without taking the cutters off, exactly as they appear in the first image. Mine are 3mm thick and took 12 minutes to bake.
Pay attention to the next two pictures, they are the same cookies. In the first one you can see them as they came out of the oven. In the second one, what you see are exactly the same cookies 10 minutes later. Magic!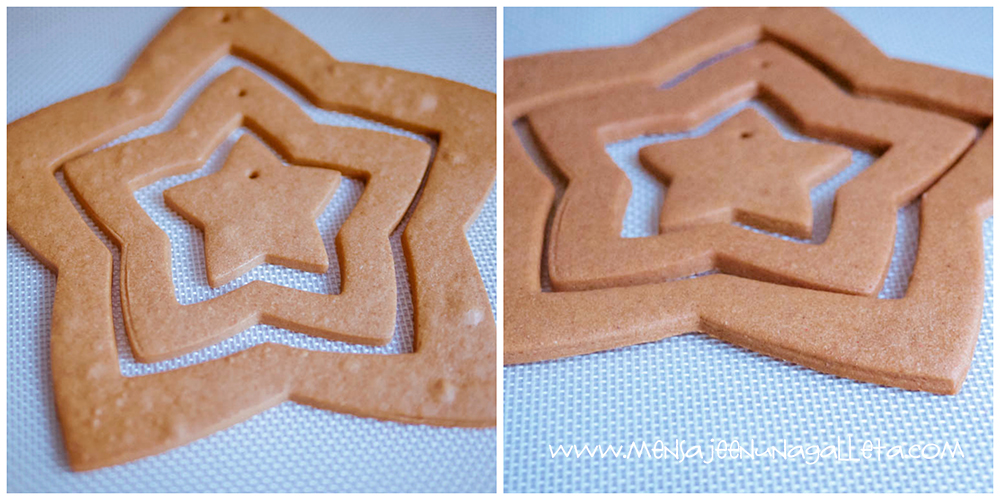 If you don't believe me pay attention to the mark on the left of the central cookie, or to the mark on the right of the biggest cookie. They are exactly the same cookies. How is it possible? I'm sorry to disappoint you but this time the answer is not chocolate, it's a hot tray: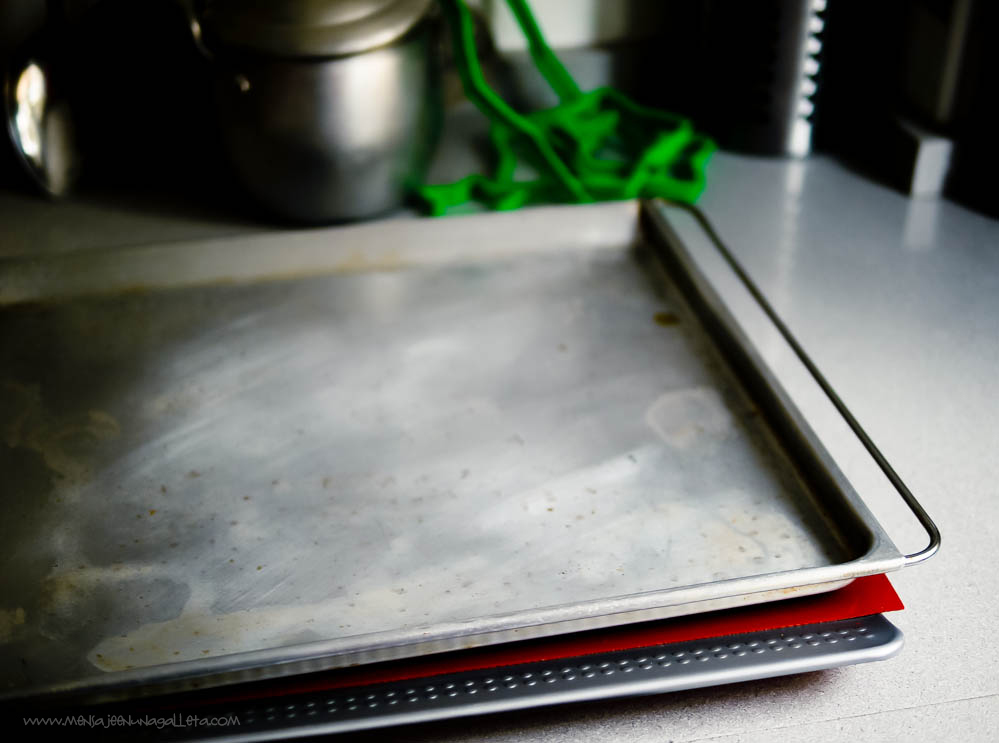 While we bake the cookies, we also heat an extra tray. When we take the cookies out of the oven, immediately we place the hot tray on top of them. We lift it after 10 minutes and…Super smooth cookies!
The tiny holes are made using the back part of a skewer.
The decoration is very easy, we paint the biggest cookie directly and the smallest one with the golden mix I used for the crowns. The star in the middle was painted with the same mixture of spray and glitter, applied in soft brushstrokes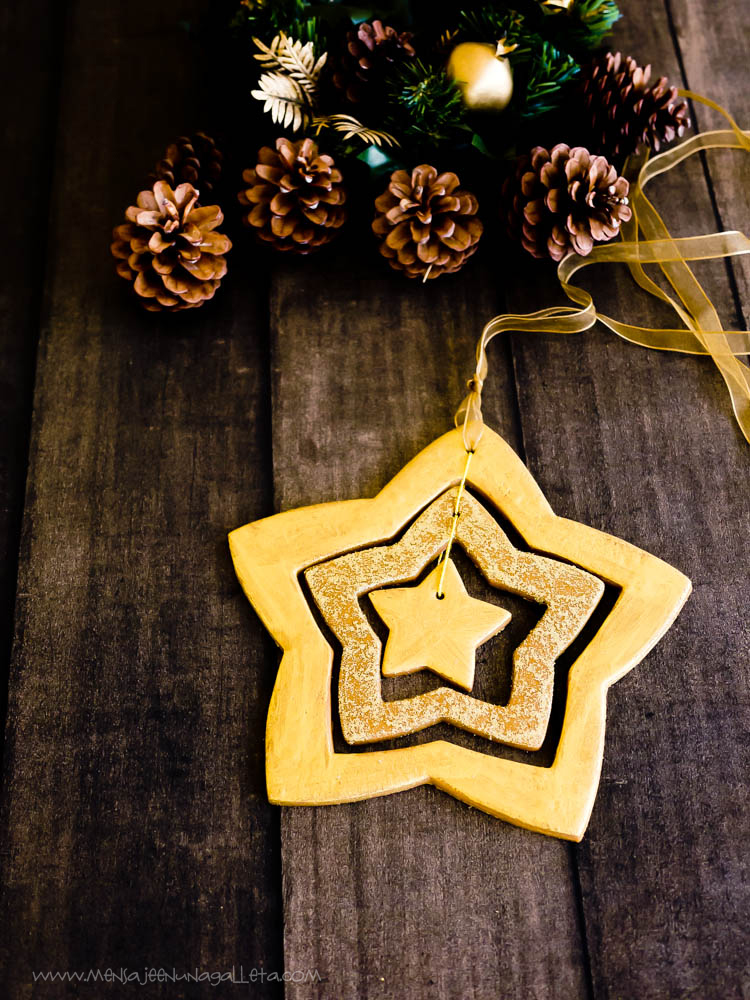 You know we love you, and we like to remind you that we do, even at Christmas time: